presented by
Vishnus Couch ^5000
Finlay Wilson, Martyna Eder & Mustafa Kombos
Neun Workshops an drei Tagen. Wir stellen unsere Studios BLG, SÜD und DTZ für ein neues Eventformat im Stil der Pre-Conference drei Tage lang auf den Kopf. Du hast die Möglichkeit á la "Couch Hopping advanced" nach Gusto zu pendeln.
Achtung: Begrenzte Teilnehmerzahl!

24. – 26. März 2023
Hier anmelden
Master Intensives Cologne
Wir möchten unsere wundervolle Kölner Yoga Bubble wieder für ein ganzes Wochenende sprengen und euch mit intensiven neuen Eindrücken verzaubern.
Martyna Eder (Berlin / Jivamukti Yoga), Finlay Wilson (Edinburgh / Forrest Yoga) und Mustafa Kombos (Zypern / Hatha-Vinyasa) werden jeweils 3×3-stündige Workshops unterrichten.
Das Themenspektrum ist herausfordernd und facettenreich, es ist tief gehend und hebt dich und deine Praxis auf ein neues Level.
Wir stellen unsere drei Studios BLG, SÜD und DTZ für ein neues Eventformat im Stil der Pre-Conference drei Tage lang auf den Kopf.
Du hast die Möglichkeit á la "Couch Hopping advanced" nach Gusto zu pendeln.
Das Programm
Freitag, 16:00 – 19:00 Uhr
Finlay Wilson: Unlocking the Hips | STUDIO SÜD
Mustafa Kombos: Art of Transitions | STUDIO BLG
Samstag, 09:00 – 12:00 Uhr
Finlay Wilson: Intro to Arm Balances | STUDIO BLG
Mustafa Kombos: Bandhas of Asanas | STUDIO SÜD
Martyna Eder: Light my fire – Manipura Chakra | STUDIO DTZ
Samstag, 15:00 – 18:00 Uhr
Finlay Wilson: Therapeutic Backbends | STUDIO BLG
Martyna Eder: Be like water – Svadhisthana Chakra | STUDIO SÜD
Sonntag, 10:00 – 13:00 Uhr
Mustafa Kombos: Handstands | STUDIO BLG
Martyna Eder: Let love rule – Anahata Chakra | STUDIO SÜD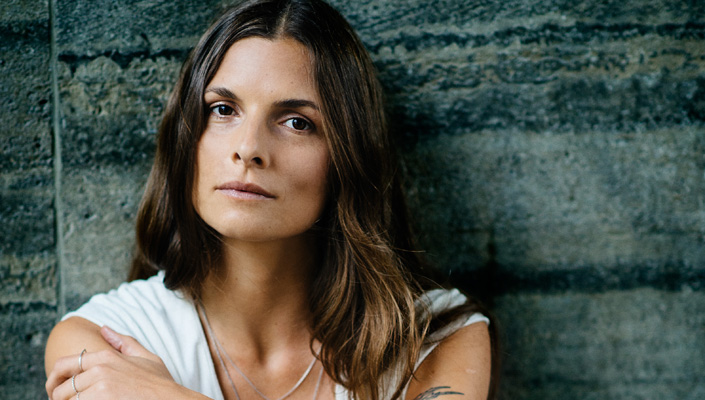 MARTYNA EDER
Jivamukti Yoga
Martyna Eder ist eine Advanced Certified Jivamukti Yoga Lehrerin und ausgebildete Schauspielerin. Sie ist Teil der Jivamukti Yoga Teacher Training Faculty und hat als Mentorin viele Apprentices innerhalb des Jivamukti Yoga Apprenticeship Programs begleitet. Selbst Schülerin in ihrer eigenen Praxis zu bleiben ist für sie untrennbarer Bestandteil ihres Lebens. Sie liebt es dafür zu reisen und Zeit mit ihren eigenen Lehrern zu verbringen.
Ihre Klassen sind herausfordernd und zeitgleich spielerisch. Sie zeichnen sich durch ihre Wärme und intensive Vinyasa Sequenzen aus, darin verwoben sind die für sie wichtigen Werte von Hingabe und Disziplin.
Die Wahlberlinerin liebt Tattoos und Kirtan singen, zusammen mit ihrem Partner Jules Febre betreibt sie die Yoga Online Plattform "Liberation Lab" und unterrichtet darüber hinaus sowohl feste Klassen bei Peace Yoga Berlin, als auch Workshops und Retreats überall auf der Welt. Martyna ist auch trauma informed Yoga Facilitator und Mitentwicklerin des Jivamukti Yoga Prenatal Teacher Trainings.
KURSBESCHREIBUNG
Light my fire – Manipura Chakra
Ein Workshop über das dritte Chakra, seine Bedeutung und seine körperliche Entsprechnung. Dieser Workshop fokussiert sich auf Reinigungsübungen (Kriyas), tiefe Drehungen und ist darauf ausgerichtet zu entgiften, zu reinigen und das innere Feuer zu entfachen.
(Die letzte Mahlzeit sollte mindestens 3 Stunden zurück liegen)
Be like water – Svadhisthana Chakra
Ein Workshop über das zweite Chakra, seine Bedeutung und seiner körperlichen Entsprechung. Der Workshop beinhaltet eine intensive Asana Praxis mit Fokus auf tiefe Hüftöffnungen, Chanting und Meditation
Let love rule – Anahata Chakra
Ein Workshop über das vierte Chakra, seine Bedeutung und seine körperliche Entsprechung. Dieser Workshop dreht sich um tiefe Rückbeugen, deren Anatomie, wie man sie sicher praktiziert und welche spirituelle Wirkung sie haben. Die herzzentrierte Praxis wird durch Metta-Meditation und Mantren singen abgerundet.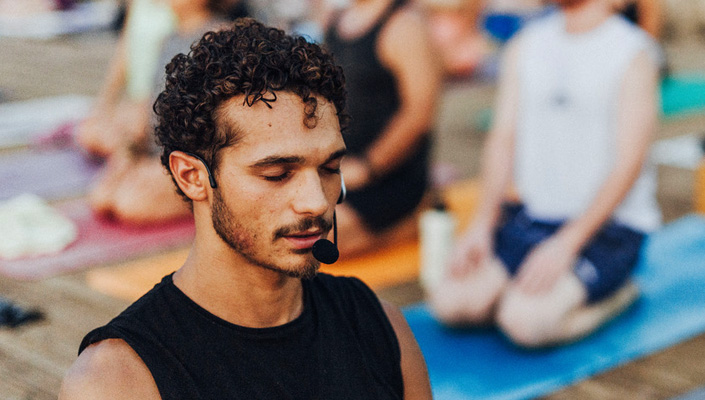 MUSTAFA KOMBOS
My teaching is inspired by many different cultures, philosophies and practices. Yoga happens every moment every where. It is the breath we inhale and the step that we take. It is our journey of searching, discovering and connecting with ourselves, people around and the nature. Ancient knowledge of yoga guides me through this path of enlightenment and I am grateful to be able to transfer this knowledge to all with love and kindness.
KURSBESCHREIBUNG
Art of Transition
In this session we will observe transitions between asanas. We are mostly concentrating on practicing asanas in certain way to achieve the alignment and neutral breath. However transitions which are the time we spend between asanas are as important as themselves. We will look in to how to move, breath and flow in transitions to create complete asana practice. In addition to that we will go deep in to our joints and their mobility while achieving a flow like a river.
Handstands
How much easily you can breath in an Asana shows how correct you are doing it. By trying asanas that we can not do, we are actually aiming to increase our capacity to breath in every situation and anywhere.
Handstand practice teaches us to be able to breath in the most difficult situations. I invite you for this practice where we will discover the depths of handstand to find that space where we can breath freely. Increasing our capacity to perceive everything from a wider perspective.
Bandhas of Asanas
Bandhas are the energy locks that opens up a new gate in our practice. By activating bandhas we are getting lighter physically and this allows to move freely and breath naturally. Mostly we practice bandhas in seated position or in stillness. This gives us a space to observe the ultimate change and power of our pranayama kosha which is our energy body. In this workshop we will learn how to activate bandhas with in asanas. To observe the change of physicality with power of energy. Becoming more light and effortless in our asana practice.
FINLAY WILSON
Forrest Yoga / Kilted Yoga
Finlay is a certified Yoga teacher, and Senior Yoga Alliance teacher based in Dundee, Scotland and a founder of Heart Space Yoga & Bodyworks, a charity organisation that works with children and various outreach groups that allows him to channel his passion for working with young people and those who may not usually have access to yoga. This makes up his day to day teaching schedule. Finlay began yoga in 2007 following surgical procedures on both legs and used yoga for my rehabilitation and has completed over 2000 hours of training with Yoga Certification Programmes along with over 1000 hours of Ashtanga and Vinyasa training. As well as my weekly classes, I also lead classes all over the world, create content for the BBC, blog, and record online yoga classes through Youtube and other online providers.
In the Yoga room, Finlay is quite hands-on, drawing on over 12 years of bodywork experience, injury management, and manipulation through hands-on assists. Through his own rehabilitation physically and mentally, he feels like safe therapeutic touch was a cornerstone in my development and he delights in sharing that when I travel and teach. Finlay has a rigorous daily practice that allows him the chance to connect to himself on a daily basis and to manage an ongoing issue with my spine. Follow along with my yoga practice on my Instagram where I post daily updates, tips, and revelations that I have along the way. I consider my feed my journal, so please do have a read!
Kilted Yoga has launched me and my practice into the spotlight with over 100 million worldwide views of my videos from the original Kilted Yoga video on BBC The Social to campaigns with companies and other Kilted friends. Kilted Yoga, Yoga Laid Bare was released as a book in October 2017 and has been attracting people's attention to yoga, Scotland and a healthier way of being and thinking. We are excited to announce that the second edition of Kilted Yoga is due out in Fall 2021, titled WILD KILTED YOGA. We also have wall calendars widely available and both deluxe and in studio kilted apparel. </p> <p>For the last two years, Finlay has spoken publicly and online through the BBC and other press outlets on LGBTQ+ issues and Male Mental Health. He is passionate about being speaking to people about how a yoga practice can help you with mental health struggles but also about how to get fierce about what you are passionate about, and to make your dreams a reality, even if that dream is your very own healing.
KURSBESCHREIBUNG
Intro to Arm Balances
Explore lightness and strength in arm balance and handstand transitions as we deconstruct and play with some very fun Yoga poses. Suitable for all levels! Challenge yourself to ask the question, "What part of this can I do?" and then delight in what you achieve!
Unlocking The Hips 
Using breath and intelligent sequencing we will begin to unravel the tension around the hips and low back. Through standing poses and some of the exquisite Forrest Hip openers you will go deeper into your hips than before!
Therapeutic Backbends 
Finlay uses intelligent sequencing and unique application of props to take back-bending to a new level. Explore deep backbends whilst creating support and space for the body, deepening your breath and investigating what it means to be struggle free even in an intense place. This class is suitable for all levels and the therapeutic unwinding of the back will leave you feeling spacious and invigorated.